Rock the stage with your epic performance.
We don't know how else to say it but to admit that there is something magical about our Music Makers LIVE performance school. After private lessons, it's the next step to getting the music inside of you out; we help you show the world what you got and learn how to rock with a band in the process! Musicians of all types, ages, sizes, and skills are encouraged to join.
YOUR MUSIC MAKER LIVE EXPERIENCE INCLUDES:
EIGHT 90-MINUTE BAND SESSIONS
ONE CONCERT PERFORMANCE AT A LOCAL VENUE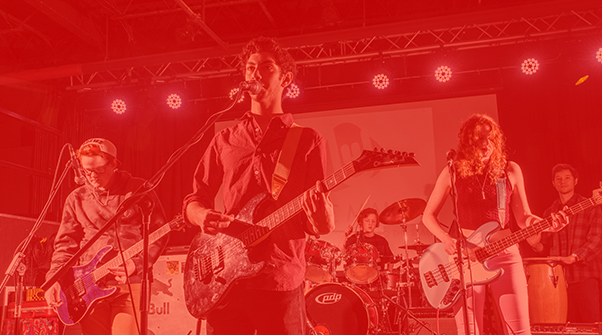 HERE'S HOW IT WORKS
Once you sign up for a Music Makers LIVE experience, we put you in a band with similarly aged and experienced players. You come to band practice once a week with one of our band coaches who will help you learn valuable skills. They include everything from how to get the most out of your music gear (amps, instruments, microphone) to how to perform as a harmonious musical unit. Students are taught the importance of playing in a band and how to feed off of each other's energies and sounds, producing an all-around memorable experience. And at the end of the session, we put on a big concert where you get to fulfill your rock n' roll dreams in front of a live audience!
Music Makers LIVE uses professional-grade, industry-recommended equipment to optimize sound. When you're finished, you'll know how to tune your musical instrument, adjust the volume to optimize acoustics, and learn a number of other fine details from our trained coaches who can provide great insight. You'll also receive access to professional photos as well as a full, 4K quality recording of the final performance. That way your friends and family can enjoy the show, instead of looking for the right shot.
Music Makers LIVE enrollment opens quarterly throughout the year.
A Music Makers LIVE experience costs $350
The next experience and first rehearsal starts on: Sunday Sept 22nd, 2019
$50 up front secures you a spot. We offer family discounts!
"

We absolutely love Music Makers! My daughter looks forward to every single lesson and the Music Makers LIVE session!

"

— Kate Houston

"

They are passionate about music education, and they work hard and joyously every day to deliver on customer expectations. Our children have been training at Music Makers for years, and we don't want to go anywhere else.

"

— Kendall Meddows

"

Amazing staff and amazing place! Love the family atmosphere! My son enjoys coming here every week for guitar lessons.

"

— Natalie Rodriguez

"

My daughter loves coming here every week and Robert is the best teacher around!

"

— Savy Beng

"

A great place for everyone of all ages to learn and appreciate what music really is.

"

— Bill Thow
You'll want to get in on this… Music Maker LIVE band photos will be available for purchase, capturing the experience for you, your family and friends.
All skill levels welcome
Our private lessons are designed help you accomplish one thing: to get better.
It doesn't matter if you've been playing an instrument for 10 days or 10 years, Music Makers can tailor individual lessons that meet your particular musical needs. Get in touch with us and we'll pair you with a professional instructor best geared to help you become a better musician.